Cabinets shown in SSB Natural, Orange Blaze, Sunshine & Midnight Blue as well as Gemstone Line Color Samples.
[an error occurred while processing this directive]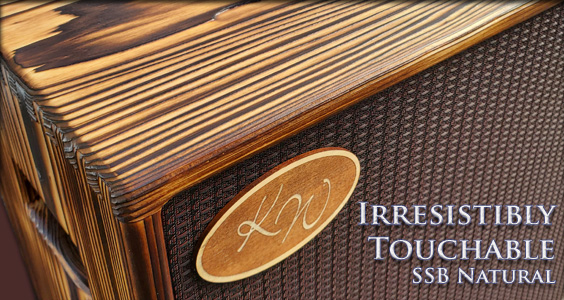 The Most Unique Finish Option Anywhere!

The NEW SSB "Shou Sugi Ban" Finish has got to be the coolest finish option available on a speaker cabinet on the planet. Shou Sugi Ban or Yakisugi is an ancient Japanese finishing technique of burning wood and charring it as a finish to preserve and waterproof the wood. Yaki means to put fire to and Sugi is Cypress. It has been used as an architectural design element for years and in it's tradtional form is left charred and completely black to aide in that preservation. The technique we use starts with the traditional Yakisugi method but then goes several steps further. After the wood has been traditionally charred we strip some of it from the surface revealing the stark difference between early and late wood grain patterns and creating a deep and extremely touchable texture effect. After further smoothing steps it can then have color applied which can lead to a wide variety of color tones that are like nothing else ranging from earth tones to strikingly vibrant. The results are breathtaking!

The SSB option is available on all of our solid wood cabinet line, but only comes in Cypress wood. Cypress is the traditional and best timber for this process. Charred Cypress is a great tone wood and has a wonderfully balanced curve. It has a moderately tight warm bottom, exceptionally clear mid-range and great high extenstion. Like many soft woods it has a great strength to weight ratio which is why it works so well as a tone wood. It is also quite light and with standard speakers in a 2x12 averages right about 40 lbs. It is an add on option to the base price of the cabinet.


I You're Looking for the Coolest Looking Best Sounding Cabinet, YOU FOUND IT!


Option Starting at $295